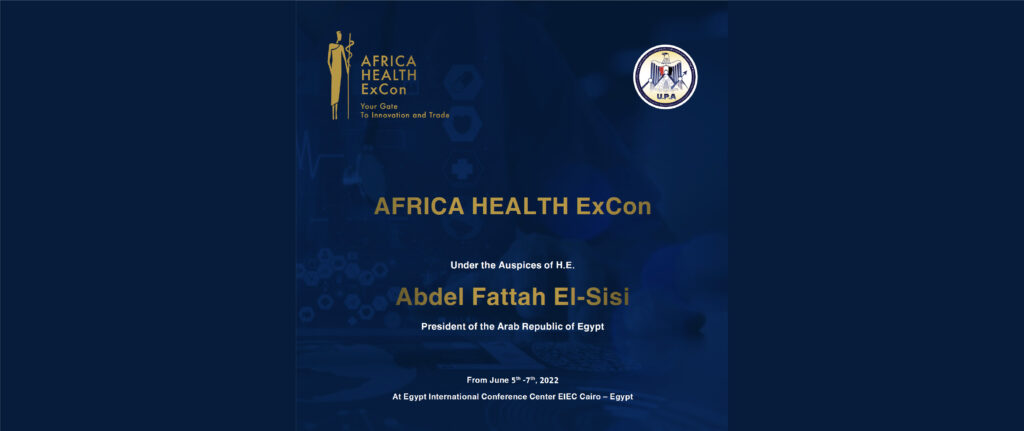 TBC – Africa Health ExCon – 5th – 7th June 2022
AFRICA HEALTH ExCon
Under the Auspices of H.E.
Abdel Fattah El-Sisi
President of the Arab Republic of Egypt
From June 5th -7th, 2022 At Egypt International Conference Center EIEC Cairo – Egypt
The Egyptian Authority for Unified Procurement, Medical Supply and the Management of Medical Technology (UPA) is endorsing Africa Health ExCon Exhibition and Conferences to be the continental hub of health innovation and trade in Egypt as well as in Africa. It seeks to refocus the minds of all those operating in the Health and Pharma business to Africa's investment potential and thrive the healthcare industry in Africa through the right sourcing of products and equitable distribution to contribute to the continent's Health Agenda in ensuring equitable access of quality health technology products and services to all African Countries.
This ExCon will take place annually to create a sustainable platform connecting the world healthcare buyers and suppliers under one common roof, giving the chance for All healthcare partners to interact together as well as supporting the flow of trade business intra/extra in the mother continent as it offers numerous opportunities to discover products across several diversified categories, targeting the following sectors:
Medical Supplies & Consumables | Medical Equipment | Pharmacies | Laboratory Consumables & Chemicals | Dental Equipment & Supplies | Dermal Products | Nutrition & Vitamins |Healthcare Providers | Pharmaceuticals | Medical Insurance | Feeding Industries | Packaging
AFRICA HEALTH EXCON CONFERENCES
The Africa Health ExCon will be also delighted to introduce a unique continuous educational session via education lectures, hands-on training and workshops, live surgeries and more, highlighting the most trending and popular topics. A scientific committee made up of 29 medical professional members from diversified medical fields and associations highlighting the most trending and popular topics. Global Experts and professionals in the medical field with a wealth of experience from all around the world will share their experience and extensive knowledge with the audience. Al Manara international Conferences Center
Egypt's Investment Potential
Egypt's interest in developing and reforming of healthcare comes not only as one of the main pillars of Egypt's Vision 2030 but also the Global Goal 3 "Good Health and Well-being" for the 2030 UN Agenda for Sustainable Development. Achieving universal health coverage to ensure access to quality essential healthcare services increasing the demand which has a great impact in localizing medical industry. Egyptian pharmaceutical market is currently one of the largest markets in MENA region as well as Egyptian medical devices market is among the five largest medical devices market in the MENA region, with expectation of achieving rapid growth in the coming years.
Please register your interest below if you would like more information.
Africa Health ExCon


June 5, 2022 - June 7, 2022




8:00 am - 5:00 pm
We're sorry, but all tickets sales have ended because the event is expired.